Oh my gosh you guys!  This is just might be the best giveaway I've done on this blog.  I'm giving away a copy of Tasty Food Photography by Lindsay from Pinch of Yum.  Lindsay has re-released her book with more amazingly awesome photo tips and to celebrate I get to give a copy to one of you!!

Dude.  This book has made such a difference for me in my photos.  I have along way to go still, but from Point A to Point B?  Wow!  Wanna see?
I changed from a point-and-point camera and using my phone's camera to a DSLR, but the techniques in Tasty Food Photography are for any level photographer with any kind of camera.  Lindsay makes photography approachable, and even goes into basic food styling for you other foodies out there.  This is the most readable photography book I've bought.
Just in case you can't wait to get your hands on your very own copy of Tasty Food Photography, you can buy your own copy by clicking the button below.  And I'm hooking you up with 30% off the book when you enter promo code newversion30.  Promo code good through July 8th.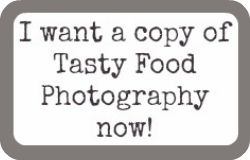 **This giveaway is hosted by White Lights on Wednesday and sponsored by Pinch of Yum. Prize donated by Lindsay Ostrom and will distributed by Pinch of Yum. Must be 18 years of age or older. Winner has 48 hours to reply to prize notification email or another winner will be chosen.