This is a sponsored post written by me on behalf of Casillero del Diablo Wines for IZEA. All opinions are 100% mine.
Blackberry Plum Sangria has a gorgeous red color and deep fruit flavors. This cocktail for a crowd is perfect for parties and nights in alike!
I love a good cocktail, and sangria is one of the best party drinks. It's easy to make, it comes in about a thousand flavor combinations, and you don't have to worry about playing bartender all night.  Just make a pitcher and pour.  Simple. Delicious.  Awesome!
This Halloween I decided to keep our party drinks easy with a pitcher of The Devil's Sangria, as I've taken to calling it.  The deep red color of this sangria, thanks to the delicious Casillero del Diablo Wines Cabernet Sauvignon looks amazing with the rest of your other Halloween buffet spread.  If you want to go super creepy, make eyeball ice cubes for your drinks.
For those who don't want to google what Casillero del Diablo mean's it's "The Devil's Cellar." Want to know why? Get ready for The Legend of Don Melchor de Concha y Toro…
Once of my favorite parts of a Halloween party is the costume contest. It's always a great incentive for people not to just dress up, but to go there and do something witty, super, funny, or amazing for their costume. If you're heading to an adults only party the Casillero del Diablo "Hallowine" gift box makes an easy, ready to give host/hostess gift, but better yet…it also makes a great prize for the guest with the best costume. I'm all about easy.
Who wouldn't think wine protected by the Devil isn't a cool prize? Better yet, this is a really nice cab with medium body, nice mouth feel, and cherry & plum flavors that go great with meats, spicy dishes, and ripe cheeses (think blue and Gruyere kids). Sound good? You're darn right it does! I'm picking up another bottle for after we take the kids trick-or-treating. The boys can go to bed, and Mike and I can relax with a nice glass of wine.
To help your Halloween party be really jammin' this year, Casillero del Diablo has teamed up with Spirit Halloween to give you an awesome discount on your Halloween costume and decorations. Cool, right?! Even better, You can also enter for a change to with your very own DSLR camera by entering their Legendary Costume Contest on Facebook. I mean, you're going to need a new camera to show off your wicked cool party, right?  But you only have until October 31st! So get on it!!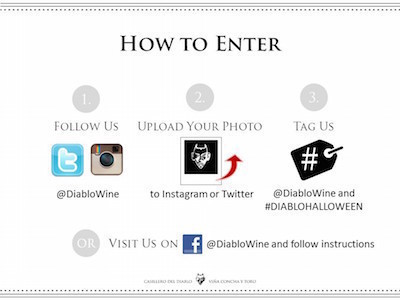 Blackberry Plum Sangria
Blackberry Plum Sangria has a gorgeous red color and deep fruit flavors. This cocktail for a crowd is perfect for parties and nights in alike!
Ingredients
4

black plums

2

pints

fresh blackberries

frozen is fine if not in season

One 750 mL bottle Casillero del Diablo Cabernet Sauvignon

1/2

cup

good quality vodka

1

cup

black cherry juice

or pomegranate juice

1

cup

soda water

1/4

cup

simple syrup

Ice
Instructions
Halve each plum and remove the pit. Cut each half into 4 equal wedges. Place the plums and blackberries into a 2 quart pitcher.

Pour in the wine, vodka, juice, soda water, and simple syrup. Stir to combine everything.

Serve immediately, or rest for 1 to 2 hours (or overnight!) to let the fruit, juice, and wine flavors combine and get happy.

Pour the sangria into wine glasses, filled with ice if desired, and garnish with a few pieces of fruit from the sangria.