Oh my gosh you guys.  I'm so excited for today's post.  You may have seen this picture on my Instagram…  {and if not you should totally be following for all the behind the scenes goods!}
MY LATEST VIDEOS
I've been eating guacamole for days and it's been FABULOUS!!  If you've never heard of Wholly Guacamole, it's the bee's kness.  No joke.  I gushed all about it with my Beef Taquitos recipe post 2 years ago.  I swore off store bought guacamole when I was 10.  I never found one that tasted good.  The textures were weird and flavors were gross.  Give me my mom's homemade batch any day.
Then one day, we were at Costco and my mom bought a two pack of Wholly Guacamole.  She gave me one of them and told me to try it.  I was hesitant, but she promised it was good.  I was expecting a not-so-sucky guac, nothing to write home about.  I was SO wrong.  It's freaking awesome.  Let me put this into perspective for you.  Mike and I have been together for 7 1/2 years.  He's vehemently anti-avocado and guacamole.  I've tried countless times to just get him to try a bite of something with guac or avocado in it to no avail.
Then the Earth stopped spinning.  Two nights ago I busted my last mini 100 calorie Wholly Guacamole cup.  I plowed through them all.  I was minding my business sitting next to Mike on the couch with my guac and chips.  He perked up and said the guac smelled good.  I said it's really freaking good.  And then the unthinkable happened, he asked to try it – just a little tiny bit on a chip, but he was about to eat guac!  He loved it.  L-O-V-E-D, loved it.  He stood around while I was making this chicken eating the rest of the regular sized Wholly Guacamole package while I gave him the evil eye to remind him not to finish it off without me.  I'm still in shock.
Okay, so this dish.  It's creamy and it packs a bunch of flavor and it's a little crunchy and I can't wait to make it again – and eat all the rest of the guac pack.  Butterflying the chicken and pounding the chicken lets it cook quickly along with making sure it cooks all the way through in a short time.  Serve it with a salad (think taco topping for salad add-ins to complement the guacamole flavor), rice, or your favorite side.
Be sure to enter the Wholly Guacamole giveaway at the bottom of this post.
First prize is a year supply of guac (in the form of coupons) and other goodies.  There are also 17 second place prizes of a cooler of products just like pack I showed you at the top of the post.  Giveaway runs from 4/18/14 until 4/25 @ 11:59pm
Need more quick 15 minute recipe ideas? Check out these other great #15MinuteSuppers!
Follow 15 Minute Suppers on Facebook | Twitter | Instagram | Pinterest
and look for the #15MinuteSuppers hashtag too!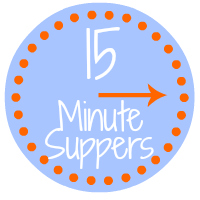 BLOGGERS: Would you like to join us at #15MinuteSuppers? We'd love to have you! Please check out the 15 Minute Suppers website or ask to join the Facebook group (for bloggers) to participate on Fridays…we'd love to have you join us.
Get more delicious recipe ideas from Wholly Gucamole
Facebook | Twitter | Instagram | Google + | Pinterest

One Year Ago: Mocha Cupcake Milkshake
Guacamole Stuffed Chicken
Ingredients
2

boneless skinless chicken breasts

1/2

cup

original flavor Wholly Guacamole

2/3

cup

shredded cheddar cheese

1

cup

panko bread crumbs

1/2

teaspoon

Adobo seasoning

Vegetable oil

for frying
Instructions
Heat a large skillet over medium heat. Add the oil so it's about 1/2" from the bottom of the skillet.

Butterfly the chicken breasts, but cut all the way through instead of just opening them up like a book. Pound the four thinner chicken breast halves really thin with a meat mallet. This will make sure they cook all the way through and speed up the cooking time.

Turn the heat on the stove up to medium-high.

Place 2 tablespoons of guacamole on top of each chicken breast. Use the back of a spoon to spread the guac evenly over the chicken. Sprinkle 1/4 of the cheese over each chicken breast. Carefully fold the chicken in half, guac and cheese on the inside, until the ends meet.

In a wide bowl, mix together the bread crumbs and Adobo seasoning. Press each side of the chicken breast into the seasoned bread crumbs, and then carefully place the chicken in the hot oil. You may need a splatter guard, some of the guacamole might ooze out and make the oil pop.

Cook the chicken for 3 to 4 minutes per side, until cooked through and browned. Remove to a paper towel lined plate. Serve with a salad, rice, or your favorite side.
Disclosure: This is sponsored recipe for Wholly Guacamole through 15 Minute Suppers. Recipe & opinions are my own.