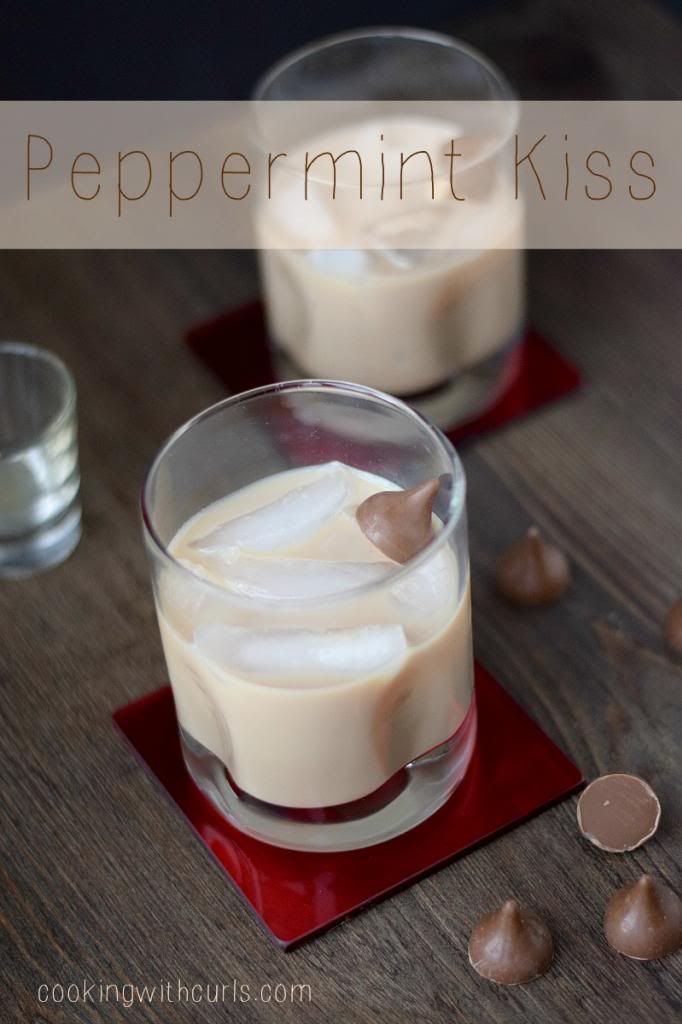 Hello again! I am Lisa from Cooking with Curls, and I am so excited to share this cocktail with you! One of my favorite flavor combinations, is chocolate and peppermint…..I never get tired of it. I am the crazy person at Starbucks ordering a Peppermint Mocha in July! I don't think peppermint is only a Christmas flavor, and the addition of the Hershey's Kisses makes it perfect for Valentine's Day, or a Wednesday.
This combination is also the base for one of my favorite cakes, a peppermint kiss cocktail cake! I wanted to see how it would translate into a cocktail, and I was very happy with the results. Smooth Godiva Chocolate Liqueur, a good vodka, and 101 Thunder peppermint schnapps blend together perfectly. I am going to be honest with you, this drink is potent! This is the kind of drink that you sip slowly and enjoy. It is very smooth going down, and kind of sneaks up on you.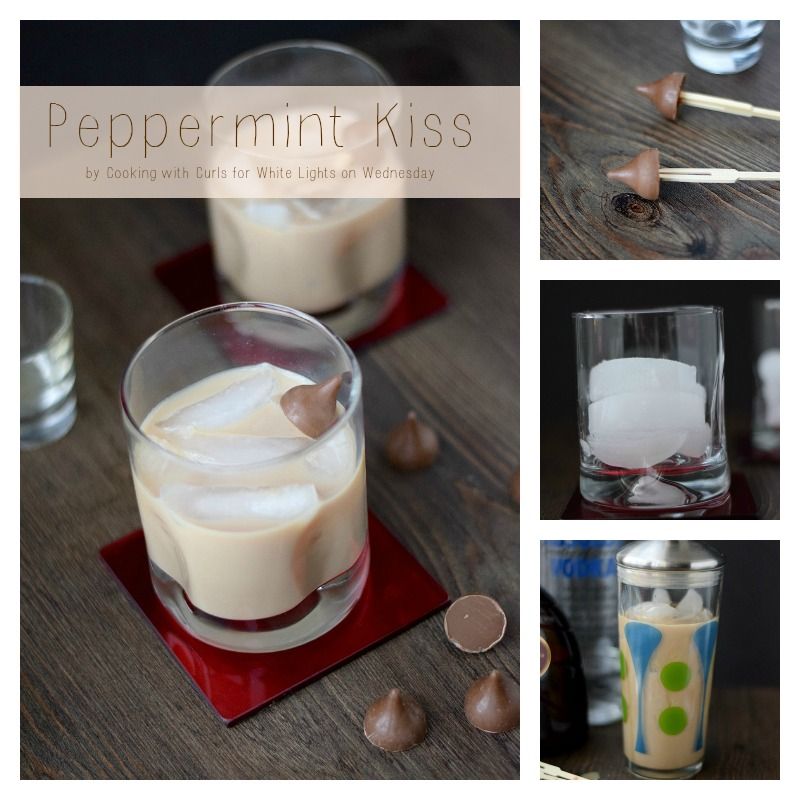 I could not find peppermint truffle kisses, so I used caramel filled instead. I wasn't sure if I would be able to get the bamboo cocktail forks into the center of regular kisses, they are pretty solid. I used the cocktail forks, because they were the perfect size to keep the kisses from sinking to the bottom of the glass. Be creative, I'm sure cut skewers would work as well.
Simply combine the liqueur, schnapps, and vodka in a cocktail shaker filled with ice, and shake! So simple, and so delicious! Enjoy!!
Peppermint Kiss
Serves 2
Ingredients
3 ounces high quality Vodka
3 ounces Godiva Chocolate Liqueur (there is no substitute)
1 and 1/2 ounces 101 Thunder (or any high quality peppermint schnapps)
ice cubes
cocktail shaker
Hershey Kisses to garnish
bamboo cocktail forks to make the Kisses float
Directions
Fill cocktail shaker with ice cubes about 3/4′s of the way up.
Pour liqueur, vodka, and schnapps over the ice.
Place lid on shaker, and shake to combine.
Pour into small glasses filled with ice cubes.
Garnish with Hershey's Kisses.
Serve.