This is a Sponsored post written by me on behalf of PeiWei. All opinions are 100% mine.
It's been almost a year since I've been to Pei Wei.  So weird to think about.  Eating out is a bit a luxury for us, and we go big or go home when we dine out.  But when I used to have the office job, I would go to the local Pei Wei a couple times a month.
One of the girls I worked with took me for the first time.  I had heard of Pei Wei, and my friends liked it, but for some reason I'd never been.  When we got there I had no idea what to get.  My friend recommended the Dan Dan noodles and it was all over.
I was hooked.  Pei Wei became one of my regular lunch/dinner spots.  I ever got the boys eating a different type of chicken – which is pratically a miracle.  I think the honey is what sold them.
I have to admit I have a bit of a love affair with Sriracha too.  It's a staple in my kitchen, and I've gotten Mike on board too.  When I found out Pei Wei had come out with Sriracha Pineapple Pork Lettuce Wraps, it was time to get some noodles, lettuce wraps, and nosh!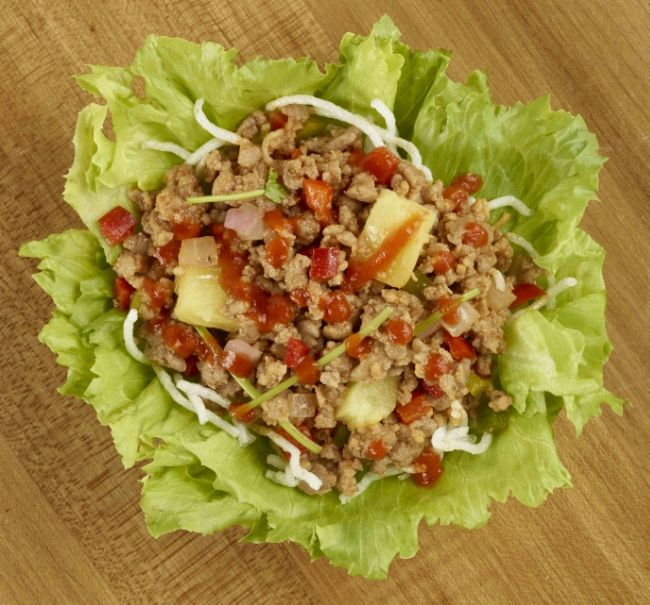 Holy moly kids.  These wraps are spicy, sweet little flavor explosions!  The combination of pork, sriracha sauce, red onion, red and green bell peppers, cilantro, garlic, lemon grass, and pineapple with the crunchy rice sticks in the iceberg lettuce cups was so good.  I'm kind of a baby about spicy stuff sometimes, but the pineapple was a really good balance.
I think I'm ready to Explore the full Pei Wei Asian Diner menu .  I've been pretty die hard abot my noodles, but now I want a flavor experience.  With high-quality Asian-inspired cuisine featuring 35 fresh, hand-cut ingredients I know I'll find another favorite dish.  And my pickiness is a non-issue since every dish is wok'd to order.  I think one of my favorite things about Pei Wei is that I can order online.  It's a million times easier to feed to boys at home, and now I can order and get home in a minute.  No more waiting on hold or goign crazy in the lobby while I try to keep the little happy while our food cooks.
You can get more Asian-inspired cuisine ideas and help celebrate pork month when you Like Pei Wei on Facebook, Follow Pei Wei on Twitter, and Follow Pei Wei on Pinterest.  I'll see you at Pei Wei with my noodles and lettuce wraps!  What makes you excited to try these new wraps?  Are you a sriracha craver like me?